What is wrong with Facebook these days? Let me count the ways. In case you missed the obvious ranti-ness of my opening sentence, let me alert you to the obvious...I'm a little fed up.
Now granted, Facebook never clearly defined itself to me in my many years using it. Is it a gaming platform? It must be from the numerous requests I get to play Amish Mystical Wordy Farm Townville. Games just aren't my thing anymore Facebook, but in all your spying worldly knowledge of me you didn't know that? Is it a way to keep in touch with long lost loved ones? Is it picture storage? Is it a way for Mark Zuckerberg to become fabulously wealthy? (Ding-ding-ding)
Here is a sampling of things found on my timeline, or whatever magical horse hooey they're calling the stream of consciousness that runs a river of muck through my electronic devices:
Press Like if you think Cancer should be cured.
Well, who could possibly not do that?
But I've GOT kids, so if you think I'm pressing like so yours can get a puppy...well..you're safe. I also will not vote because I think your puppy is the cutest.
YOU KNOW, I'VE NEVER BEEN FOOLED BY ADVERTISERS BEFORE, SO I THINK I SHOULD CLICK ON GERARD BUTLER'S ABS BECAUSE FOR $10 HOW COULD IT BE A HOAX?
PLAY POKER
PLAY AMISH MYSTICAL WORDY FARM TOWNVILLE
PLAY POKER, BUT NOT THE SAME AS THE FIRST ONE.
I love how Facebook says the above are "Suggested" posts? So, who suggested them? Where is the suggestion box where I can "suggest" a few of my own.
IQ Test...if you're brilliant name a game, vegetable, word, toy, movie, etc. that doesn't have an 'a' in it, or maybe this time it does. First time, fun, not as much after that.
New profile picture..."hey I can make a camera phone AND a mirror work, jealous out there vampires?" Please, like anybody believes in Vampires anymore! (Twilight is over, right?) Is it more pathetic that you need your friends to comment on your self-portrait OR that your friends weren't around to take a picture for you...you know one that doesn't show the flash on your camera going off?
Hi, you don't know me, but I was adopted. I'm looking for my birth mom. (Oh, you're gonna hate me worse in a minute) While the first time I saw this, I thought it was a novel idea, but then it became a bigger trend than the Harlem Shake and everyone is forwarding. After the first one, it becomes noise.
Are you prepared to hate me yet? Ok, I can wait.
Press LIKE if you want to see a unicorn come out of my butt.
Realizing that unicorns coming from ones buttocks is rather painful, please LIKE if you want the unicorn to stop.
Ooh, how about the racial slur that I will take down if I get enough votes. Seriously folks?
If I had more space and energy, I could rant for days about people who check-in everywhere and take pictures of food, but...well...I do that.
What's the difference between a Meme and a Mimi? Well, one is a poorly made-up fat ugly blight and the other was the chick from Drew Carey's show. Ok, I get the cleverness, but some of these things are just over-done and over-shared.
I'm running out of steam and the NyQuil is taking over again....so prepare to be offended....
When did Facebook become an Amber Alert? Please don't get me wrong, if my kid was missing I'd be going crazy. But posting and forwarding these Amber Alerts on Facebook is like passing out leaflets in a fox den about a missing hen. I pray for each and every one I see, but like the adopted kids discussed previously, the alerts become noise, if this kid is in California, chances are the majority of my friend base on the East Coast aren't going to have seen them. It seems like Twitter would be a much faster and better medium to do this, but for some reason I don't see them there?
http://www.tumblr.com/tagged/like-for-heaven
Hey, by the way...like my page, please! You know, like, hit LIKE, like you're from the valley from, like, 1984. Gag me...no, that wasn't gangnam...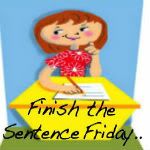 Linking up this week with Finish the Sentence Friday. The sentence is "You want to know what I think of social media? I think..."