Where have I been?
Where have I gone?
Well friends, my life has been upside down for a few months now. Against I am sure many people's better judgement, I tell you I am going through a separation that appears to have only one possible conclusion, Divorce. That was very difficult to write and likely difficult to read.
So what can I say? My kids occasionally read my blog so I'm not going to go into detail. Not being able to write my usual witty snark is difficult enough, I just haven't felt it. Not writing at all is even more difficult.
As I said, my kids read my blog occasionally. My ex estranged wife does also used to. I can't do anything about that. They all know how I feel and what we are going through, but for you wise reader, here's a breakdown of what has been lost.
19 years of marriage. I wouldn't try to fool anyone by saying marital bliss because it hasn't always been bliss. If you've been married, especially to a stubborn man or woman like my wife and I, you know better. Marriage, like life, doesn't follow a Hollywood script. The highs can make you dizzy and the lows can cause depression. It is a constant struggle, one that for the right person we go through willingly. Next October will be (would be?) the 20th anniversary.
3 kids came of this union. I wouldn't trade them for anything. My Teenwolf, who struggles to be so much like his dad, yet makes many of my mistakes. I want to tell him to make new mistakes, learn from my path. I'm very proud of the way he has turned out. He has rough edges, but deep down he is every bit of who I hoped he would be. Shaggy had a rough start in this world, but he's finding himself as he is getting older. I'm happy that he is comfortable with himself, so few people ever are. I hope his wandering spirit brings him home now and again when he is ready to leave. Princess Sassy Pants (PSP) is the late addition we desperately wanted to the family. A good 10 years behind her eldest brother, she has allowed me to revitalize my parenting. We learn so many things as our children grow and so often we say, "I wish I could have done better with that.." She is my wish come true.
1 Home held us. Sure, there was a room, a borrowed house, a condo, a townhouse, and a house all in the mix, but only one home. They say "home is where you hang your hat" but for me, home is where your family is and hangs all their hats. There is a husband hat, a wife hat, one for each kid, there are brother and sister hats, man and wife hats to name a few. Now, it has less hats, like riding in a speedboat less hats.
One. As in "the two shall become one." Conjoined twins who share a vision, a heart. Can you truly live with one eye and half of a heart? God can probably come along and fix us up, good as new, but I know he isn't enjoying it.
I don't like Divorce. It's painful in every possible way. It makes you question every thing you've ever said or done. It makes you feel like a failure. It is more than a break-up, but an amputation, some might say it is a living death.
Is it easier to hear "I've found someone new" or "I'd rather be alone than be with you" I realize that sometimes we don't actually get to hear either one, but isn't this the underlying message? Both are equally destructive, causing massive wounds to self-confidence. I'd rather face these questions out loud and in my face than let them swim in the undertow. How about the seemingly less intense, "we just aren't right for each other?" This statement merely invalidates the 19 years, some of which were or felt very right. Lest we forget the granddaddy of all, "we've grown apart." Well, again, we are invalidating any work we've put in over 19 years to build a life together. The proverbial "whatever."
Statements like the latter two seem to indicate that God (or the Universe) makes mistakes which doesn't seem to be in his character. More importantly, those statements take the blame for the failure off the people who are most to blame. It's like a day at the fair: you bought your ticket, you ate some food, you rode some rides, you experienced the thrill of the height or speed of the ride, maybe you experienced the low of throwing up some of that food because of those thrills. At some point you get your fill of the fair and you leave. It's how it's supposed to go, right?
Marriage is as much about the Sickness, the Poorer, and the Worst of Times as it is about their opposites. Nobody ever won the Medal Of Honor for working at the Burger King on post. Surviving the bad times is what makes the good times seem so much sweeter. It is your badge of courage, your Medal of Honor.
Friends tell me how much better off I will be when it's all over.
They are wrong.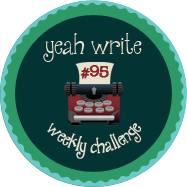 I've missed the folks over at Yeah Write and thought I'd share this week with them.
Lots of good writers over there, click the button to check them out.