Recently, I read
Priced Out of Relationship Market
, an older post from my buddy Angie at Angie Uncovered, which as it turns out was a response to a post on Single Motherhood Bliss entitled
He's Just Not That Into You
. Well, you might want to read them to catch up. Both are very well written and offer an interesting perspective. I felt the need to comment on both and in doing so, I felt as though I had more to offer on the subject.
Both of these ladies have come to seemingly the same conclusion and that appears to be that in making themselves stronger in the wake of failed relationships, they have come to not need a man. Now, the after effect of living in that mode is that they realize that they don't need a man, but perhaps they want one. Here is the interesting part, those two pieces of the puzzle wage a war and make it difficult.
Here's the thing, men and women aren't all that different. Men have long been chastised for wanting a lady in the streets, but a freak in the bed. "Men are pigs" that way. Frankly, the ladies aren't too much better. It's been said they want a sensitive man, but seemingly all they want to flirt with are the bad boys. Whatever happened to the knight on the white horse?
He's a Prince AND he irons!
Photo courtesy of http://thestar.blogs.com/royals/
As Jessica states,
There seems to be this general agreement that there are far more good women than there are good men. And that women just need to "be strong" and hold out for her "Prince Charming".
Haven't we all heard a similar description in that wonderful word that stirs in us such hope when we are young... Soul-mate. (Wait for the collective sigh...) As we get older we either convince ourselves that such a thing exists and that we have "settled" or we find said soul-mate only to discover that they're broken. Either scenario is painful and almost impossible on your partner. We ask the questions should we continue to look around quietly to find our "true" soul-mate or how could our soul-mate let us down? I've got better questions for you...
When did relationships become disposable?
When did "life is too short" become a reason to stop working?
It seems that men and women alike turned a blind ear (huh?) to "Sickness" and "Poorer" and "Bad Times" when we prattled off our wedding vows. Perhaps you chose to write your own vows because you didn't like the above words or "obedient" and your new and improved vows sound like something Yanni would put to music. Why should I use my Mom and Dad's vows, you ask?
Here is a news flash to all those reading this...we don't live in the fifties anymore. We can't live in the stereotypes of the fifties either. Women are much more powerful, men more sensitive, and children frankly are far less naive.
He's soon to be off to work, she to tend the house.
Photo courtesy of fmwf.com
Women aren't expected to cook, clean, and look pretty and nothing else.
Men aren't expected to earn the family living, keep the family budget, and make all the decisions.
Men don't have to be the rescuers.
Women don't have to be the nurturers.
Are you scared?
Here is what I know.
I am as comfortable reading a book, writing a blog, painting a landscape, or planting flowers as I am watching a ballgame, listening to music, playing a sport, or mowing the lawn.

I am as adept with an iron, a skillet, a mixer, and a blender as I am with a drill, circular saw, sander, or chainsaw. They are ALL power tools.

I don't open the car door or hold the mall door because you are incapable or even because I like to, but rather because I am thinking of you all the time and it is a simple way to show it.

I cook, I grocery shop, I do laundry...some would say my Mom raised me right. I would say that like Angie and Jessica, I have been trained not to NEED a woman for my survival.
I believe the key to friendship, companionship and relationship is finding someone who makes your life complete. That's code for find a person who doesn't mind doing the things you find "icky."
I realize that in reading the above, many of you will have determined that I am perfect (for your mom) but I'm not. Can I clean the tub? Yes. Do I clean the tub? Not as often as I should. I like doing laundry including folding, (except the ridiculous silky underwear that never stays folded, so I stopped wearing it) but I HATE putting it away.
I'm drawn to strong women and I believe I understand why. I hate confrontation. I'm more likely to break up with someone over a text message because I still like them too much to see the look on their face. I hate delivering bad news or asking for better service. I bend over backwards to give the benefit of the doubt. I am simply not aggressive. I can't take a punch, but if you miss, I probably won't miss. I seem drawn to women who see injustices in my life and can be passionate about not allowing them to continue.
I like spontaneity despite lacking it almost completely. Despite scheduling "spontaneous time" from 6-7PM every Tuesday, I seem to fail at achieving it. Women who are more spontaneous frustrate and please me at the same time. I enjoy being pulled out of my schedule for things I wouldn't normally do.
I think Angie sums it up nicely, saying
I see the way my daughter's boyfriend/fiance takes care of her. More than that, I see the way she lets him take care of her. I also see the way she bakes him cakes, listens when he wants to talk, and hangs out with him while he kills zombies. Will she discover that she doesn't "need" him to take care of her? When/If she does... will she be wise enough to let him take care of her anyway?
Indeed a fine question to be asked of man or woman, boy or girl. I suspect a lot of that depends upon whether she needs to kill her own zombies. I say find a girl or a guy with whom you can use the power tools together, which includes the mixer, iron, and assault shotgun.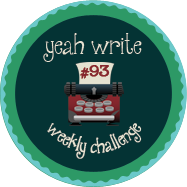 I haven't been seen in these here parts in a while, it might be they need to remember me. Lots of great writers hang out at Yeah Write and I hope you think I am one of them!