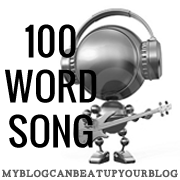 Hitting up the next 100 Word Song challenge over at Lance's place.This one to ZZ Top's Sharp Dressed Man.
He looked good, but he always looked good. It was a gala event and he would command the attention of the ladies. Heck, he would have everyone's attention. Babes in bikinis would gather around him, going largely unnoticed, such was his presence.
His car wouldn't be the fastest, nor would anyone notice him being dropped off in the Limo, but nobody beat him on the suit. Armani was his friend. He practically lived in it. His hair perfectly styled, he sipped his Evian as he made his way to the center of the action.
"Ladies and Gentlemen, for your entertainment, 12 Rounds of Heavyweight Boxing..."