Vertigo...
I'm not talking about the Alfred Hitchcock movie of the same name featuring Jimmy Stewart. George Bailey goes out on a ledge...this isn't.
I'm talking about the medical condition.
Anyone who has ever been diagnosed can attest to the debilitating qualities of this condition. If looking at the picture on the right makes you even a little nauseous, you might know what it feels like to experience Vertigo.
I was diagnosed in the last year with
Benign Proxysmal Positional Vertigo
which is a mouthful with no fun acronym (BPPV, really?) and I have a flair up on a semi-routine basis. The severity of these flair ups is the key to the misery.
Explaining what this is like to someone who hasn't experienced it is like telling the Pope about sex. Let's use some more common experiences to give you a general flavor. (
Vertigo, not sex
)
Being
Drunk
- ok, it is assumed that my readership is older and has experienced alcohol in their lives. I'm going out on a limb that people who have experienced alcohol, have also likely over indulged in the same. Frankly, if you've never over indulged, how do you kow when to stop indulging? I digress (
but I do that
). You know that feeling when you have had one or two (or seven) too many and you move your head and it takes a moment for the room to catch up? Now imagine all the room spinning, without the debauchery of enjoying the drinking. Ever have a friend who practiced drunk driving tests? Saying the alphabet backwards and walking a straight line for instance? If you have Vertigo, this practice may come in handy to get you to work.
Hitting your
Funny Bone
- it's not that funny is it? It feels strange, but I've never heard anyone chuckle. That feeling is because some sort of nerve connection has been disturbed between your elbow and your brain. Imagine now that the same connection has been broken between your eyes and brain.
Spinning under a light or in a merry go round
- I can't more strongly warn my adult friends NOT to try this at home! Something happened between the days of my youth and my adult self. I visited a merry go round, not the kind with the horses and carnival music...no. I'm referring to the playground toy that spins. As a child, you might have run while holding said apparatus to get it up to speed, then as it was at the threshold of turning back time you would leap aboard and attempt to stay on... As a child, this was great fun and as an adult, such an adventure will result in dizzied walking and possibly a review of lunch. I can't make you imagine anything about this one, this is almost word for word part of the diagnosis.
Going over a hill and feeling your stomach dropping
- I never really got the dropping feeling. It was more of a leaping and completely beyond my control...well other than the obvious slowing the hell down. Anyway, (
shorthand for 'I digress' but I suppose it isn't short if I keep explaining it
) that feeling in the pit of your gut is much like some of the experiences of Vertigo. You lack any control over the feelings.
Know that feeling you get when you
Get Up Too Fast
? Lightheaded and a bit dizzy, but if you stand there a moment, it gets better. Yeah, stand if you can, Vertigo doesn't pass. It doesn't.
Now, one of the worst parts of Vertigo is the jacked up behavior of your eyes. I only wish I could get a video of my eyes when I am experiencing an attack.
DVDs have just screwed up our lives for understanding Vertigo. I'm about to talk about two things that if you're in school, you wont know anything about...
VHS tracking
and
Reel to Reel
. Now with the former, remember when a tape's tracking was off the tape would stutter a little? Anyone remember watching a movie when a loop was created in the reel? You'd get a picture that rolled and hopped and stuttered. Your eyes would want to close until it was fixed. You'd want your money back if you were in a theatre.
Yeah, you aren't getting it back with Vertigo.
Here is a day in the life of Vertigo...
Awaken at 4am, likely not a life changing event, but whether Vertigo has done the waking doesn't matter, you won't sleep again.
Roll over and as your life flashes before you like some silent film on a reel to reel, you wonder how you managed to drink so much and not remember even starting to drink.
Puke.
Nope, you don't feel better as up stumble sideways back to the bed trying to open your eyes only when absolutely necessary.
Email our boss to say you can't make it into the office. At least that's what you hope you typed because your words make Captcha look legible.
Realize that you aren't going to get to drink ginger ale and catch up on your DVR because having your eyes open is an unspeakable torture.
Get your spouse to drive you to the doctor, only stopping 3 times to puke and thanking the Lord that your doctor isn't more than 3 miles away.
The doctor shows you a picture of your ear and you debate that it's your eyes that are all fouled up. He shows you the following picture which is not helpful because it looks like Patrick from Spongebob with the way your eyes are floating around.
The doctor does the exam and he says "your eyes are kinda bugging out, I wish you could see them..." yeah, I wish I could see.
Turns out there are chunks of stuff where fluid ought to be in some part of my ear that no q-tip can reach and no water-pick can clean out (believe me, I've tried!)
There are to remedies, one involves re-orientation exercises that take about 20 minutes and if those are unsuccessful, it's the little pill. I asked about the pills ability to cure and was told... "it doesn't cure anything, it just let's you sleep through the worst of it!"
Yay me!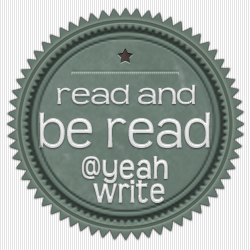 Hooking up with Yeah Write...I tasted a little victory last week if only in the eyes of one, I'm hungry for more.