Just another reason to dislike AT&T
Thanks to whatever that company is that had the little girl stow her stuffed animal in daddy's luggage to remind him of her love and her impatience for his return...
Such began the adventures of Pinky, the stuffed pink unicorn.
(
because it was obviously a girl unicorn and names like 'Larry' are just not appropriate for GIRL unicorns
)
I've been taking Pinky on trips since my little girl, Princess Sassy Pants, saw that ad. Pulling a pink unicorn from your bag while trying to have TSA check your laptop is either exceedingly cute or decidedly creeper, there really isn't a middle ground.
You're totally either "great dad" or "don't take candy from strangers."
Most of the time the pictures don't have to be epic, just the fact that you're thinking about your little girl enough to embarrass yourself by pulling a pink unicorn out of your bag (
and folks I'm being literal, not figurative here, so get your minds out of the gutter)
is the key.
Many pictures are simply shots of Pinky lounging on hotel beds or primping in the mirror. (
she's a bit vain...more on that later
)
There are pictures of Pinky at the airport and with various grandmother types. More often than not, the grandmothers are taking the pictures of me holding Pinky.
Occasionally, the scene changes to include the slightly more dramatic poses. Pinky has been to the beach. (
the green shirt is for color contrast people!
)
I've climbed tall mountains for Pinky.
Fortunately, the climbers around are less likely to think you are a creeper and take your picture... well if they didn't bring kids.
But...
Pinky is a bit of a diva. One might use the B word if one were more of a potty mouthed blogger.
Dealing with her moods is tiring. Take for instance this picture recently snapped from a hotel room with a beautiful scene in the background, it's enough to melt a little girl's heart. What you don't realize is that this is how Pinky who has no hands, let alone fingers, flips you off...
Yeah...
Diva! (
spelled with a B
)
A risk taker, a total devil-may-careWho does this?
And this one... Nightmares!
Statements that start with "sometimes you ride the buffalo, sometimes the buffalo rides you" never end well.
But, the squeals of joy at both pictures of the adventures of Pinky, as well as Pinky's safe return are well worth the time and effort in the eyes of a young girl.
Yeah...Pinky... It's all about Pinky.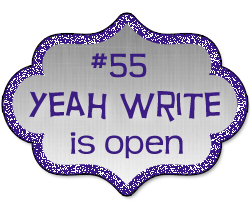 Once again, I'm joining forces with YeahWrite.me and bringing another fantastic post. I know I promised Arson and to some of you, bunnies, but alas the suspense must build on the one and frankly Pink Unicorns are way cuter than bunnies (
until you read this, of course
)