And not for me.
This wasn't a Jason Statham movie!
Well it was terrifying, but because I'm a huge chicken.
But for her... that night haunts me.
I was about 22 I'd guess. It was 1988 or so. The place, Bowie, MD, my hometown.
I almost hit her.
I had been out with my girlfriend and had dropped her back at her house in South Bowie. I was driving north on Rt. 3 or 301 or whatever the road was at the point. I hadn't gone too far up the road when she ran right in front of me. Being that it was fairly late in the evening, probably after midnight, there wasn't a lot of traffic. She ran out from the right shoulder of the road, crossing in front of me on her way to the median strip which was fairly large and grassy. I had just enough of a warning in seeing her that I was able to cross from the left lane over to the right to avoid her.
I didn't lock my brakes but carefully slowed down and pulled over onto the median about 300 yards ahead of her. I was concerned for her safety and wanted to make sure she was all right.
It was at this point that I saw the other vehicle. It was on the right side of the road and as I pulled over, this car moved to the center median ahead of her and a man got out. A brief chase ensued and he grabbed her and put her in his car.
I had no idea what to make of the situation, but as he passed my stopped vehicle I pulled out to follow him.
I'm sure that given the reduced traffic, the other driver was aware of my presence before I began following him. He didn't drive far before turning into a restaurant parking lot and pulling up to the front of the building which was not closed for the evening. I pulled in to a spot closer to the road and then we danced.
I felt as if I was witnessing my first true Evil.
Every fiber of my being screamed that something wasn't right, but my arm refused to open the car door, my legs refused to carry me over to his car, my voice failed me to call out to see if everything was all right. 1988 was a dark, dark time where one did not carry a telephone on their hip, let alone the Internet... thus I was left with no avenue other than to sit in my yellow silence within my car trying to summon the courage to move. No occupant of the other car had left that vehicle either, so I was left to contemplate the situation.
After what seemed like an hour, but likely no more than 10 minutes, the other car started. Taking every precaution, the other driver pulled out slowly and made his way out of the parking lot and back onto Rt. 3 where he slowly made his way onto the ramp for Rt. 50 towards Annapolis.
I chose at that point not to follow, why I will never know, but rather I went to seek out a policeman. As I drove towards my home, luck or fate or God put a policeman in my path. At the intersection of Rt. 450 and Millstream Drive, a policeman sat waiting for the light to turn. As I was directly across from him, I checked the traffic and went through the red light to stop on the opposite side of the street as his car.
Running a red light within obvious sight of a policeman will get their attention for sure.
I ran to his car and breathlessly wove as much of the tale as I could remember including the license plate of the car and his route and direction. The officer took my information and was on the radio making calls.
I didn't sleep that night. I didn't get a call to testify to what I witnessed. I didn't see anything in the newspaper. It was a very long night, week, month with that on my conscience.
To this day, I don't know what the story was, whether I played a role with my action or inaction. This could have been a playful game between two consenting adults and I made it weird for them by being the creepy guy who followed them. It is possible that this was a runaway teen whose father caught up with her. I can't help but feel that it was far more sinister than that though.
I'm writing this because I try very hard to live my life with little regret. I know I will make bad choices and live with the consequences. It is my hope that in some way this story finds the girl who ran and finds her well. I don't need to be the hero, I just want to know that my cowardice and inaction didn't border on villainy.
Perhaps the universe is paying me for my lack of action by a lack knowledge as to the outcome. If this is my penance for cowardice, I will endure it.
Have you ever been involved with something that was so disconcerting and frightening that you were paralyzed?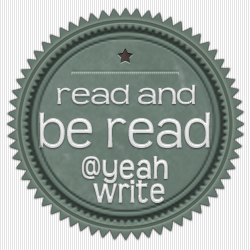 I'm hooking up with YeahWrite again this week, please take a moment and click the button. I guarantee you will find a few blogs that are worth reading. Come back Thursday and vote for your favorites. I can always use a vote.