Frankly, I never thought it would happen. I've heard and seen it occurring with other blogs. I'm quite sure
The Bloggess
can attribute her success to it.
Simple Dude
has got to have had it happen.

The Viral Post!
Wildly popular, able to leap search engines in a single bound, the Viral Post is that kid in high school who pulled the fire alarm and never got caught. Later, that same kid brought beer to the prom but since he brought enough for the chaperones, nobody cared.
What am I talking about? Well, recently I wrote a little post about
The Guest Who Never Leaves
and
It.
Blew.
UP!
Off the chains readership, at least for a modest little blog like mine... At recent count, the views were at
4127
for a post that is barely a month old.
I'm sure that any blogger who has seen this will tell you...
The worst part about writing one of these posts is writing another.
I have to admit to complete confounding flumoxery over that post. I had written a post for Simple Dude as a guest while he vacationed and being the perfectionista overachiever that I am... well, I gave him two choices. He decided on my post about my becoming an
amateur dentist
leaving me with the post about guest posting.
So, the lingering after effect that should be satisfaction is curiosity. It shouldn't be that way. I should relax and enjoy it. But I can't. I want to see 300+ comments to go along with that. I didn't choose any images that might be "hot" or "compelling" or even dare I say it "interesting." I created a new buzz phrase, "Creativity Dysfunction" that I am sure all my fellow bloggers will be using. (Chachkis available in my store, but no Joanie's) But I really have no explanation for the views.
Those of you who read me regularly know that I am often a bit angsty about writing a good post, thinking I've written a good post, and then being validated by views and comments. So often, I get views and comments on stuff that I've written and don't think is the most sparkling gem in the bag.
So I've come up with my Top 5 Reasons That Blog Post Went Viral.
5.
I envision
my mom
hitting the refresh button a few dozen times a day? But why on THAT post, Mom?
4.
Was it my ingenuity to include the word (shhhhhh)
Cialis
? Or perhaps Viagra? Does this start a massive spam email campaign? I guess that means people were willing to click. Just sayin'.
3.
Did I create a wormhole in the fabric of google whereby because I linked to that post from mine, and somehow it linked back...perhaps the
spiders got confused
and continued to scan causing my hits to climb.
2. The Charlie Sheen effect
. I realize I included a picture of 'Wild Thing' Rick Vaughn from Major League (still one of my favorite movies of all time!) and some of those on the Tiger-Blood-Warlock-from-Mars-WINNING track towards epic life collapse felt compelled to click. Sadly, I'm not sure which is more tragic...his life or the lives of all the people who couldn't stop watching his circus.
And the TOP Reason that
The Guest Who Never Leaves
went viral...
1. Sinbad.
Everybody loves Sinbad. Everybody knows that Sinbad lost in the finals of Star Search, after beating Dennis Miller in an earlier round. Sinbad also starred in
Houseguest
where he played a guy who impersonates another guy to become a Houseguest of Phil Hartman. It is clear that all of his fans have been hoping for a Sequel. Their angst upon realizing my little blog post was NOT the news they had been waiting for was the primary cause for little commenting. I should be happy at this point that they didn't leave hate mail. Memo to me, DON'T WRITE anything entitled "SECOND KID!"
So, have YOU ever written a wildly successful post? Give us a link and we'll try to come up with a top 5 for why it was so successful!
For those of you not in the know, here is how you create a link... which is also helpful for leaving your blog URL in comments.
(oh, and the link will make it so you get even more hits).
<a href="

http://your fabulous blog URL here

">

Either your fabulous blog URL or Title here

</a>
You can now get a Creativity Dysfunction mug here:


Creativity Dysfunction mug by Itsmynd
View other Writers Mugs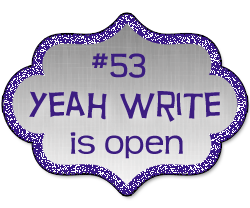 Once again, I am adding my witlessness to the finer folks over at YeahWrite.me and by clicking on this link, you will be taken to a mystical land of story tellers that are some of the best you'll read. Come Thursday, you should click again, vote for 7 of your favorites, of which I hope I am one.
Hey. I'm also guest posting over at Tsarita Says today with The Services I Offer catch me there.
Jo-Anne M. won the giveaway for the Bloggess kindle book on Criss Cross'll Make Ya Jump Jump. Thanks to everyone who played.